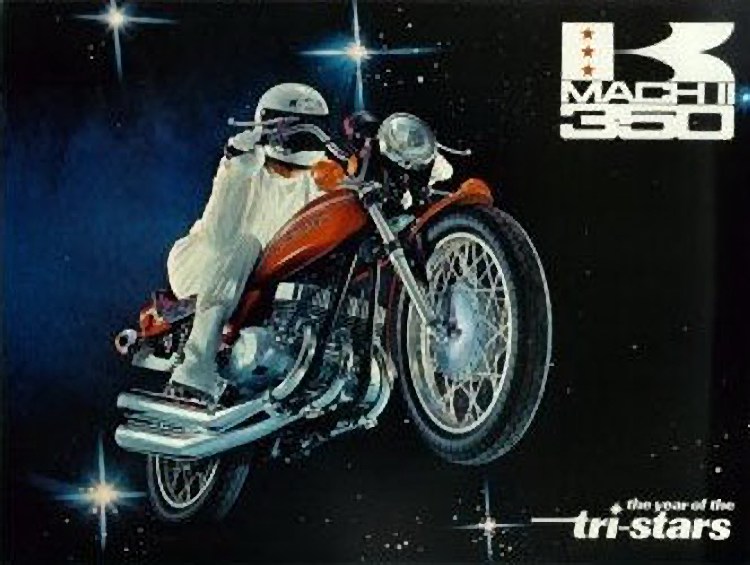 I bought my S2 from my old neighborhood cycle shop. They had it sitting out front with a for sale sign on it. It sat for about 6 months. I got tired of staring at it every day, and so I went in and asked about it. They worked out a lay-away plan for me, and I put $100 down. I paid it off a month later, and picked it up. It was a 1972, that had been raced, and the owner before me was trying to fix it up for road use again. It was complete, but not running. There were alot of new parts put on it, new points and condensors, new tires... I took it home and got to work. I tried to start it, but it just coughed. I cleaned the carbs, but no luck. Then I got into setting the points with a meter, and it turns out whoever put it together had the coils all out of order...wrong cylinders were firing at the wrong time. Got that straight, and it started fine. Ran like crap, though, so I ordered some new jets for it from Chaparral. Got it tuned in fairly well. I painted the fenders and side covers, but I am waiting on the tank 'cause its got some bondo in it, and I want to get a straight one to paint. The lights were disconnected, and the wires were all a jumble, so I cut everything, and I custom wired the whole thing. Its not going to be a stock restoration at all. For instance, the tail light lense was cracked, so rather than agonize over finding another one, I got a pair of round lights, and made some mounts for them. I think they look trick! More modern. They fit nicely inside the tail section. As for blinkers, they were a mess. When I was up in York, PA for a swap meet, I found a set of 4 blinkers with all wires and switches for $20! Brand new, althought the pack had been opened before. So, I fitted them. The fronts went into the head light as normal, but for the back, I drilled into the tail section, and mounted them high, on either side of my dual round tail lights. Also, as for brakes, the front is equiped with a disc brake system from a '74 S3. (My S2 came with drums on the front originally.) So, like I said, far from stock, but that was never my purpose. Just wanted a fun neighborhood bike that might bring back a few memories.

Ive ran it around the neighborhood as much as I dare without tags, and its nice and mellow, until you open the throttle over half way, then it just wants to tear my arms off! Great wheelie bike!
Here it is as it sets now. This is how it was when I got it home.
Ive got some more to do to it, but I ought to be able to finish it this summer.
Here I am racing my S2 at the Woodlawn Basement Motor Speedway of the Mind!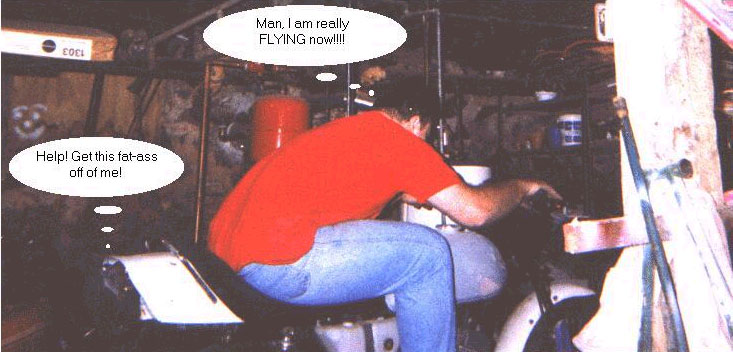 Got a set of chrome air filters for it. Its been a while, so I uncovered it and fired it up. The battery is dead as hell, useless. In any case, I took it for a spin around the neigborhood, and it ran really well. As long as your easy on the throttle, it even sounds repectable. I tried to open it up a bit, and it felt like the clutch was slipping. I rode it some more, and cracked it again, and again the RPMs were cranking, but I my road speed didnt match. I should of been in a wheelie, but no. So, guess she needs a clutch! (This was the most Ive ever riden it, so I guess thats why I never noticed before.) No big deal. Ran out of money for now, so I guess it will be a while before I actually ride it to work or anything. It's actuall sort of last on my list right now. The bighorn is 1st, with the KX almost tied! I hate having 3 bikes that are not finished!

UPDATE:07/06 Its been too long. A few months back, I got it running really well, and I pulled the clutch cover and inspected the clutch. It was not worn at all, the plates looked really good. I pulled a head off and Im pretty sure that it had been bored way back when the last owner was putting new parts on it. The dome of the head and top of the piston was just mirror shined perfect. NO scratches, scuffs whatsoever. I put some gear oil in the case, because someone suggested it. The tranny did NOT like that at all. Chatering, and popping out of gear. So, going the other route, I am going to replace that with some Type F transmission fluid and see how the clutch acts then.

I got a fresh battery from WalMart. It was not the "proper" one for the bike, as they did not list one, BUT, it sort of fit into the battery box so what the hell. Cheap too.

Think Im gonna get a historic tag for it later this year. Still getting some flack from my better half about it, but this is something I need to do. Its killing me to see it sit there.

UPDATE: March 2008

FINALLY! Got a historic tag for it. Ive been driving it here and there, short trips really. Just trying to work the bugs out of it. The clutch was slipping for sure so I found a new set of springs that did the trick. I am running Mobil 1 in the gear case now and thats working good. Finding neutral at a stop light was a little hard at first, but it got looser as I rode it more. The shifter linkage is egged out a bit so Ive got to find a better set.

I painted it also. Looks good rolling by or at a distance! Up close its not so great but for a back yard job its not too bad. Green. Bright green!

Someone made the comment, "that would be cool restored". Bummer. What? its not cool now? I mean gawd man there cant be too many of them left on the road at all. Its a nice fun bike. Thats all. I dont have the money or time or facilities to do one so perfect like you see at the bike shows. So what if my hubs are not powder coated?!?!

Also, I am considering making up some decals that say "NO, its NOT a 750!" That is the first question out of eveybody's mouth. Well, everybody that sort of remembers the triples. "A 350? Oh god that must be slow huh?" I just say, well top speed is not all that high, but it gets there REALLY quickly.

Hell, Im just chugging the thing around at this point, I havent really made it scream yet. It pulls me around VERY well, and I am a very large human. Has alot of nice torque for a little bike.

It is weird for me to be riding on the road after all these years in the dirt. I will post some pictures of it soon.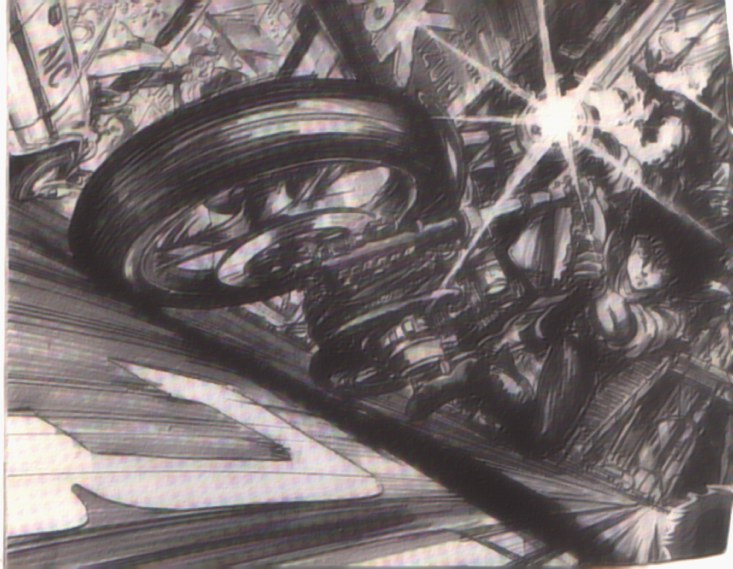 Artist's Conception: Me on the streets of Baltimore on my radical S2!