2005 Vintage Racing Season Log
This page will cover my 1972 Kawasaki F9 350 that I race in AHRMA events.You can read about how I put it together and my earlier experiences with this bike here: http://twostroke.tripod.com/newhorn/index.htm this page will serve as a continuation of that one.
Race 1: April 2, 2005 Budd's Creek Maryland:
The weather was threatening to say the least, but I made my way down to southern MD anyway. The sun was actually poking through the clouds when I arrived at the world famous track. The clouds prevailed although we got through practice without any rain falling. I saw 4 riders go down during my single practice lap. It was a bit sloppy. They were running in reverse, which meant I had to climb Henry hill, and descend finish line hill. Weird for me since I had never ridden that track that way. They had bypassed some sections of the track that were deemed "too messy". Fine with me. Budd's is a LONG track, especially for a thirty something enduro!
Right at the time the motos rolled around, it started to rain. I was in race number 4. It was coming down pretty good when I started. Half way through my race, the rain became torrential. The track was like a river, and I was TOTALLY soaked. I mean down to the core. I had water gushing up my legs. It was HILARIOUS! It may sound like a bad situation, but it was the most fun Ive had in my 3 years of racing! Ive always enjoyed challenging terrain...Id rather go slow over some really tough stuff than to have a perfect track and have the speeds way up. (Im not a fast rider) Seriously, in that line of thinking Ive always thought Id enjoy trials riding.
It sounds crazy, but the track was not that bad, simply because it was all in the same condition. I mean sometimes, you get some mud and slop mixed in with some dryer dirt and you have to contantly judge conditions and adjust throughout the lap. This was pure slop EVERYWHERE, so it was just a matter of getting through it. The bighorn actually handled pretty well. Ive got a new front end on it this year which has a thin 21 inch tire rather than the truckishly wide19 inch wheel that I had been running up front.
Long story short, I got stuck on a hill for about 3 minutes, but I still finished. That would turn out to be a key issue, because of the other riders in my class they either did not start or did not finish. The strarting lines were getting thinner and thinner as the rain got worse and worse! They only ran one set of motos because of the rain. I would have gladly gone out for a second set myself. Anyway I got a really nice trophy for my book case!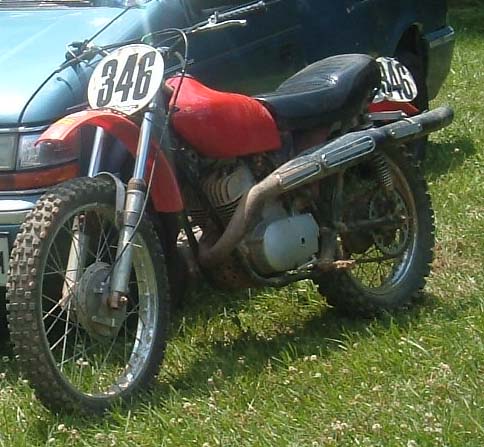 I missed the next few events. Some were too far away for me to drive to, and I was too flat ass broke to make it to the landing in Easton. That place is a bit harsh for a '72 enduro anyway.
Race 2 : Mountaineer in West Virginia. My favorite track! The weather was perfect, and the track was beautiful. The bike ran great, and I changed the front end again. The springs in the Yamaha forks were WEAK. Too weak to jump anything, so I had to do something. It didnt matter at Budds. I never left the ground.
I pulled some springs from my old set of F5 forks, and they were a good 4 inches longer than the Yamaha units, but the same diameter. The Yammy had some spacers in the tubes anyway, so I removed the spacers and the springs, and dropped the bighorn springs in. So now, up front, I have Yamaha forks with Kawasaki springs. NICE! It made one hell of a difference in the handling. Having the 21 inch wheel up front with the yammy/Kaw hybrid forks is SOOO much better then the stock Hatta units with the 19 inch rim. It used to steer like a Mack truck, but now it cuts pretty good.
I made it thru both motos without any problems, and got a pair of second place finishes. The season is on break now for 2 months, then its back to mountaineer again!