My First Bighorn- 1970 F5 350
My first bighorn was given to me by a neighbor named Cameron when I was 14 years old. I had been riding another old Kaw, an MC 90. Cameron was like a big brother to me and one of my friends. We would stay up all night in his basement working on our bikes, (He had a '76 DT400) and we would load them on his trailer and go riding at the local trails, mostly in Laurel, Md. He was cleaning his basement out one day, and we were helping him. He asked me if I wanted a motorcycle, and I said yeah, so he pointed to a large wooden crate under the workbench. The frame was in one corner. The motor was sitting somewhere else, and everything else was in that big wooden crate. I dragged the crate across the street to my house, and after a couple more trips, I had everything over there. I put the motor in the frame, and we acutally started it in the frame with no wheels, while my friend Brian worked the throttle cable by hand. It sounded mean as hell! I put the wheels on, and my first ride was taken without a seat, and with a zip tie hooked to the plug wire as a kill switch. We pop started the beast and it fired right up. I rode down the street, and back up. The power was awesome. The motor was'nt even working and I was flying. I made it back to my back yard, and yanked the zip tie. The spark jumped a good 2 inches through the air and the thing kept running! I guess after years in a basement, it didnt want to stop! I finished it as best I could, and it became my regular ride for the rest of my childhood. Later, after I got married, it sat in my garage at my mom's house for several years.
This is what she looked like when I was 15.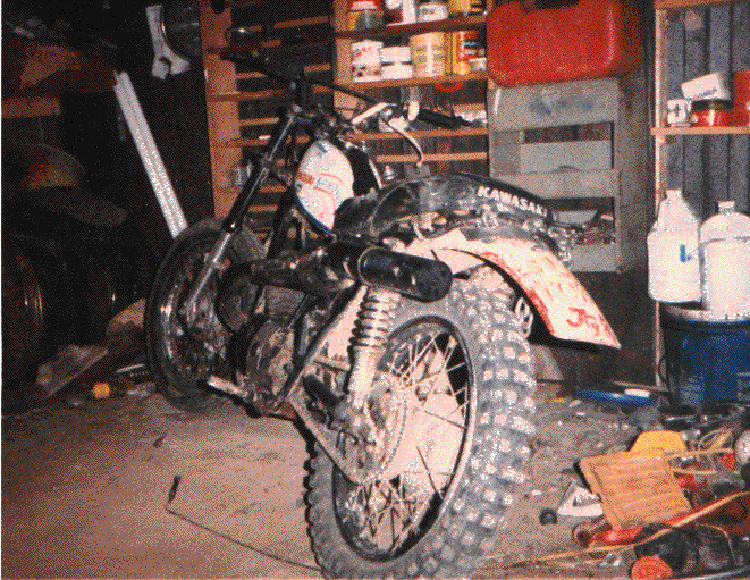 In 1998, a friend at work started talking about buying a dirt bike and riding, and I told him I had one sitting. He bought a Suzuki DR350, and I dug my old bighorn out of Mom's garage. I cleaned it up, and got a carb set up for it, because I had given away the old carb a few years before. With the new carb, it ran better than it ever had before. I fixed the brakes (which I didnt care about when I was 15) and bolted everything down properly. I took it out to some local trails we found, and I rode it for about 2 seasons after that. It was highly modified, with the factory speed kit parts, a fiberglass tank, custom frame, port mods, Preston Petty plastic, and a Torque Engineering expansion chamber.
Here are some pictures from the second era of my experiences with the old girl. (1998)
I left it sitting in my yard one day for a couple of hours after washing it off, and the next morning, I woke up to find out that someone had cut the lock off of my garage and stolen it. Quite a shame, since I pretty much know who stole it, but what are ya gonna do? Stupid kids. I was really hoping one of them would die on it, but it probably got ditched in the woods somewhere, after they realized what a bastard it was to start. I spent a good bit of the next few months looking for it, but then gave up.
Cameron passed away a few months later, which just sucked. I hadnt even really talked to him in the last 10 years. The subject of the bighorn even came up at his funeral, when some of his old racing buddies were talking, and I added that I had the bike these last years. So, the bike was gone and so was he. I learned 2 lessons: keep up with your old friends, and lock your bikes up tight! When they were cleaning out Cameron's basement after his death, there was a basket case Honda that he had never finished, and I gave his wife $50 for the pieces, and that became my next project and ride.
I guess that's what led me to build my current bighorn. I did everyhthing right this time, from the ground up, and I am running the same setup used on the one Cameron gave me. I even had a cylinder left over from the stuff that was given to me years ago, and it was radically ported. I found a new Wiseco piston for it and had it bored. Runs like mad!
Here is a picture of Cameron on his Vmax. His was the last model made before they banned the bike the first time in '85. 10.3 second quarter mile STOCK!
Return to Main Page