2007 Racing Season
Lots went on this year, although I have not updated my site at all so th is page will be it for 2007. The KX400 is finished and I had several races on it. I am still getting used to the beast. Once on a long uphill sweeper, I gassed it a little too much and the rear end came around...I backed off quick and I tried to save it. I had it sideways like a flat tracker for about 30 feet, and then hit the ground. I got my first hole shot, well sort of. I beat alot of expensive Euro bikes down the chute on my Bighorn with a second gear start, but I paid the price. I was on the far inside, and I cut too close to a flag stand, and the handlebars struck a post. My over anxious cornering dumped me off the bike, I whacked my head on the post, and the throttle pinned open. When it was all said and done, my Wiseco had a crack in the front. I actually had a 250cc top end which I fitted, but I am on the look out for a .60 over or 1.5mm piston for the Bighorn, if any of you know where I can get one! The 250 has a peppier power band than the 350, but not the torque needed for that 2nd gear CZ and Maico thrashing I SO want to do again. (Okay, so what if they catch me 2 turns later and then lap me?--thats just my lack of riding ability). But, I have to think that Cameron would have been proud to see me out pull the exotics on my stripped down enduro.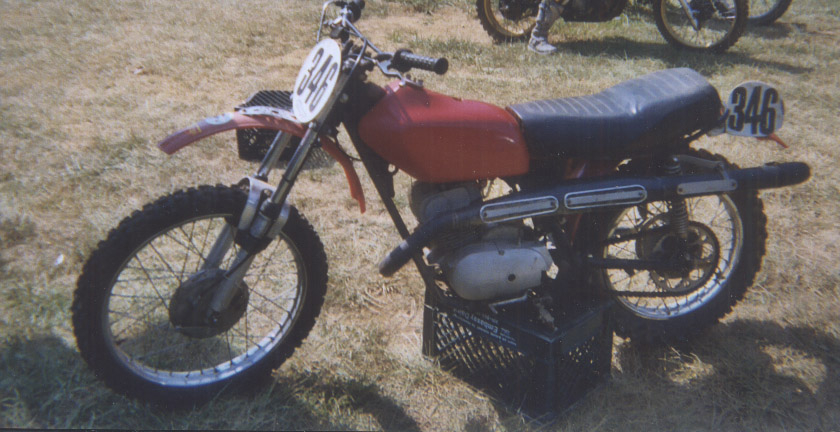 The trusty old 'Horn is now living life as a 250 until I can find another piston! (1.5 or 060" over 350...got one? )
Probably the biggest thing that happened this year is my Brother's involvement in the sport. Watching him race when I was a little kid gave me the MX bug although I never raced until 7 years ago in the vintage classes. My Brother quit racing in 1979, right as the long travel explosion was happening. We hadn't seen much of each other over the last 15 years but last Christmas we were talking about what I was doing with the vintage class MX. He was surprised that I was racing, and he was interested to hear about AHRMA. We agreed that he would have to come along one time and see what it was all about. At the tail end of the 2006 season, we finally hooked it up, and he came with me to Mountaineer. I had two bikes with me and he took his first starting gate in 27 years. It was the coolest thing in the world. He went out for one moto, and needless to say he was hooked.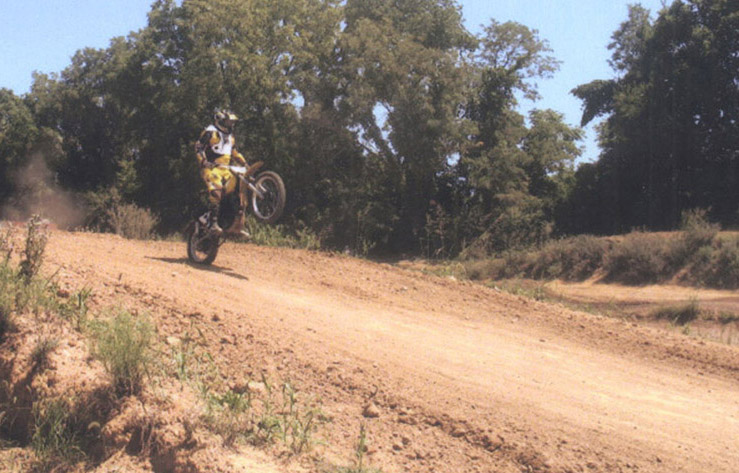 My Brother: Old school landing style!!!
On the way home, we agreed that he would run my Yamaha 400 in 2007, on a "loaner" basis. I had the bighorn, and I was building the KX400 anyway. Shortly into the winter, he got it really bad, and we agreed on a price for the Yamaha. I hate getting rid of bikes, and I had only run the Yammy about 2 hours, but this was family. We worked a deal where he would cover all my expenses over the season until the bike was paid off. It was really cool, like being sponsored almost!
It worked out that we take the same starting gates which I was a little nervous about. I could keep him in sight for a while in the first race we ran together, but after that forget it. He was gone. I guess it came back to him pretty quickly even after 27 years of not being on a bike. I remember being right on his back going into one of those bottom-of-the-hill sweeping turns at Budds Creek, and he almost seemed to stop briefly, then he squared it off and was all the way up the hill before I made it around the turn.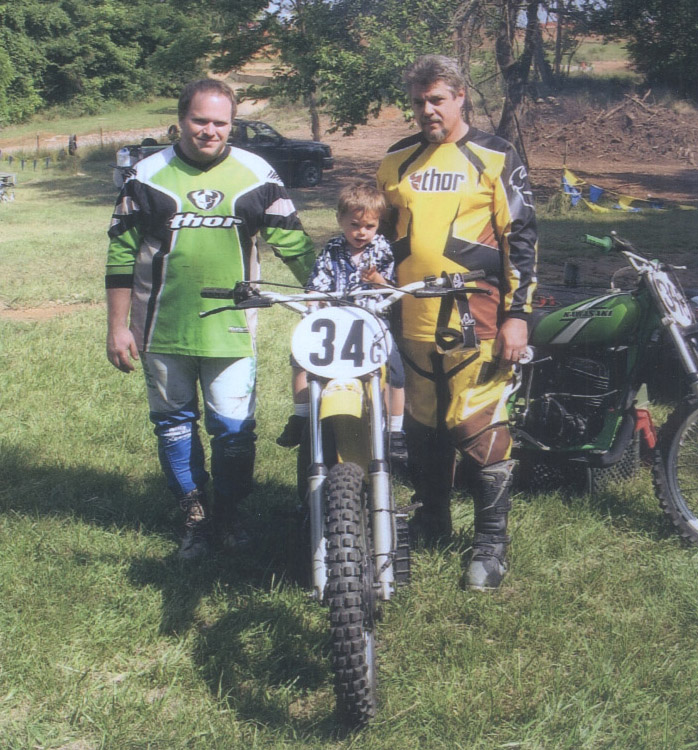 Yours truly, My Nephew and My Bro
Anyway, I got to see more of my Brother this last year than I ever have and he's just gone nuts with the racing thing now. Ive created a monster, but it sort of feels like I've returned the favor after all these years.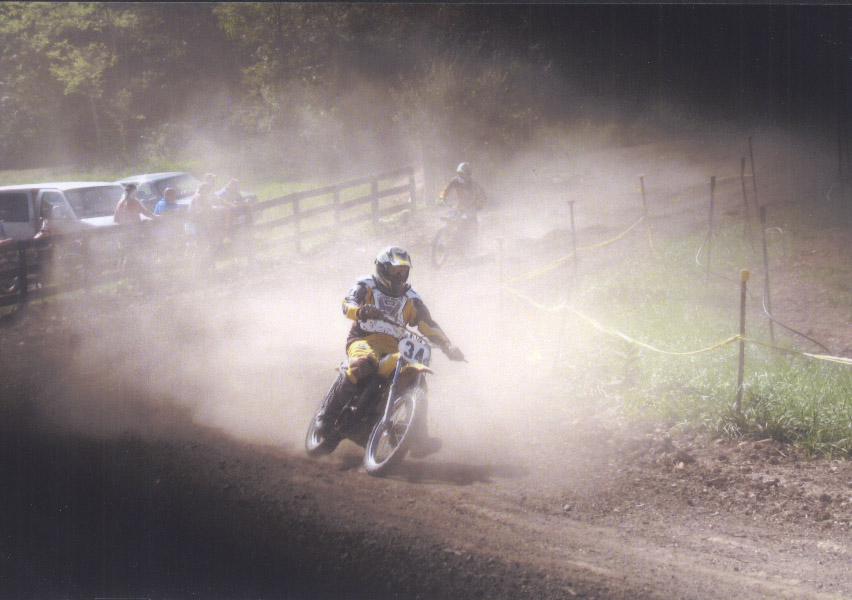 Mike kicking up some dust!
Well, I actually tried a cross country race. The fellow came around offering to sign everyone up for a free race to see what is was all about. I couldnt turn that down, so my brother and I signed up. I only had the KX with me and that turned out not to be such a good woods bike. It likes alot of throttle, but I made it thru two laps and then my Brother and I had a quick meeting in the woods and decided our bikes were not set up for this sort of thing, and we bailed out early. He had bent up some pegs and I put a crease in my museum quality KX pipe which was a bummer, but not the end of the world. I had a guy offer me some cash AND a new circle F pipe for my pristine stocker once...guess he wont want it now! LOL. Anyway, the course was a blast for the cross country, but the Bighorn would be the bike for that. Put it in 3rd gear and go, simple as that. Got to get one of those old time Preton Petty enduro lights for it!
I spent alot of time on the KX towards the end of the season, and I am STARTING to feel comfortable on it. We can only transport two bikes easily at this point, so in most cases if I have to bring just one bike, its the KX.
Looking forward to 2008, which starts in about 8 weeks as i write this. My Brother is recovering from a serious auto accident and there is a chance he may not run in the season opener at Budd's Creek, but he says he will go in any case and be my pit crew.